1970 - Colder Winters Held Dawn of New Ice Age - Scientists See Ice Age In the Future (The Washington Post, January 11, 1970)
1970 - Is Mankind Manufacturing a New Ice Age for Itself? (L.A. Times, January 15, 1970)
1970 - New Ice Age May Descend On Man (Sumter Daily Item, January 26, 1970)
1970 - Pollution Prospect A Chilling One (Owosso Argus-Press, January 26, 1970)
1970 - Pollution's 2-way 'Freeze' On Society (Middlesboro Daily News, January 28, 1970)
1970 - Cold Facts About Pollution (The Southeast Missourian, January 29, 1970)
1970 - Pollution Could Cause Ice Age, Agency Reports (St. Petersburg Times, March 4, 1970)
1970 - Pollution Called Ice Age Threat (St. Petersburg Times, June 26, 1970)
1970 - Dirt Will .Bring New Ice Age (The Sydney Morning Herald, October 19, 1970)
1971 - Ice Age Refugee Dies Underground (The Montreal Gazette, Febuary 17, 1971)
1971 - U.S. Scientist Sees New Ice Age Coming (The Washington Post, July 9, 1971)
1971 - Ice Age Around the Corner (Chicago Tribune, July 10, 1971)
1971 - New Ice Age Coming - It's Already Getting Colder (L.A. Times, October 24, 1971)
1971 - Another Ice Age? Pollution Blocking Sunlight (The Day, November 1, 1971)
1971 - Air Pollution Could Bring An Ice Age (Harlan Daily Enterprise, November 4, 1971)
1972 - Air pollution may cause ice age (Free-Lance Star, February 3, 1972)
1972 - Scientist Says New ice Age Coming (The Ledger, February 13, 1972)
1972 - Scientist predicts new ice age (Free-Lance Star, September 11, 1972)
1972 - British expert on Climate Change says Says New Ice Age Creeping Over Northern Hemisphere (Lewiston Evening Journal, September 11, 1972)
1972 - Climate Seen Cooling For Return Of Ice Age (Portsmouth Times, September 11, 1972)
1972 - New Ice Age Slipping Over North (Press-Courier, September 11, 1972)
1972 - Ice Age Begins A New Assault In North (The Age, September 12, 1972)
1972 - Weather To Get Colder (Montreal Gazette, September 12, 1972)
1972 - British climate expert predicts new Ice Age (The Christian Science Monitor, September 23, 1972)
1972 - Scientist Sees Chilling Signs of New Ice Age (L.A. Times, September 24, 1972)
1972 - Science: Another Ice Age? (Time Magazine, November 13, 1972)
1973 - The Ice Age Cometh (The Saturday Review, March 24, 1973)
1973 - Weather-watchers think another ice age may be on the way (The Christian Science Monitor, December 11, 1973)
1974 - New evidence indicates ice age here (Eugene Register-Guard, May 29, 1974)
1974 - Another Ice Age? (Time Magazine, June 24, 1974)
1974 - 2 Scientists Think 'Little' Ice Age Near (The Hartford Courant, August 11, 1974)
1974 - Ice Age, worse food crisis seen (The Chicago Tribune, October 30, 1974)
1974 - Believes Pollution Could Bring On Ice Age (Ludington Daily News, December 4, 1974)
1974 - Pollution Could Spur Ice Age, Nasa Says (Beaver Country Times, December 4, 1974)
1974 - Air Pollution May Trigger Ice Age, Scientists Feel (The Telegraph, December 5, 1974)
1974 - More Air Pollution Could Trigger Ice Age Disaster (Daily Sentinel - December 5, 1974)
1974 - Scientists Fear Smog Could Cause Ice Age (Milwaukee Journal, December 5, 1974)
1975 - Climate Changes Called Ominous (The New York Times, January 19, 1975)
1975 - Climate Change: Chilling Possibilities (Science News, March 1, 1975)
1975 - B-r-r-r-r: New Ice Age on way soon? (The Chicago Tribune, March 2, 1975)
1975 - Cooling Trends Arouse Fear That New Ice Age Coming (Eugene Register-Guard, March 2, 1975)
1975 - Is Another Ice Age Due? Arctic Ice Expands In Last Decade (Youngstown Vindicator - March 2, 1975)
1975 - Is Earth Headed For Another Ice Age? (Reading Eagle, March 2, 1975)
1975 - New Ice Age Dawning? Significant Shift In Climate Seen (Times Daily, March 2, 1975)
1975 - There's Troublesome Weather Ahead (Tri City Herald, March 2, 1975)
1975 - Is Earth Doomed To Live Through Another Ice Age? (The Robesonian, March 3, 1975)
1975 - The Ice Age cometh: the system that controls our climate (The Chicago Tribune, April 13, 1975)
1975 - The Cooling World (Newsweek, April 28, 1975)
1975 - Scientists Ask Why World Climate Is Changing; Major Cooling May Be Ahead (PDF) (The New York Times, May 21, 1975)
1975 - In the Grip of a New Ice Age? (International Wildlife, July-August, 1975)
1975 - Oil Spill Could Cause New Ice Age (Milwaukee Journal, December 11, 1975)
1976 - The Cooling: Has the Next Ice Age Already Begun? [Book] (Lowell Ponte, 1976)
1977 - Blizzard - What Happens if it Doesn't Stop? [Book] (George Stone, 1977)
1977 - The Weather Conspiracy: The Coming of the New Ice Age [Book] (The Impact Team, 1977)
1976 - Worrisome CIA Report; Even U.S. Farms May be Hit by Cooling Trend (U.S. News & World Report, May 31, 1976)
1977 - The Big Freeze (Time Magazine, January 31, 1977)
1977 - We Will Freeze in the Dark (Capital Cities Communications Documentary, Host: Nancy Dickerson, April 12, 1977)
1978 - The New Ice Age [Book] (Henry Gilfond, 1978)
1978 - Little Ice Age: Severe winters and cool summers ahead (Calgary Herald, January 10, 1978)
1978 - Winters Will Get Colder, 'we're Entering Little Ice Age' (Ellensburg Daily Record, January 10, 1978)
1978 - Geologist Says Winters Getting Colder (Middlesboro Daily News, January 16, 1978)
1978 - It's Going To Get Colder (Boca Raton News, January 17, 1978)
1978 - Believe new ice age is coming (The Bryan Times, March 31, 1978)
1978 - The Coming Ice Age (In Search Of TV Show, Season 2, Episode 23, Host: Leonard Nimoy, May 1978)
1978 - An Ice Age Is Coming Weather Expert Fears (Milwaukee Sentinel, November 17, 1978)
1979 - A Choice of Catastrophes - The Disasters That Threaten Our World [Book] (Isaac Asimov, 1979)
1979 - Get Ready to Freeze (Spokane Daily Chronicle, October 12, 1979)
1979 - New ice age almost upon us? (The Christian Science Monitor, November 14, 1979)

---
Fra vårt eget forum på Klimaforskning.com: Litt klimahistorie

---
"The facts have emerged, in recent years and months, from research into past ice ages. They imply that the threat of a new ice age must now stand alongside nuclear war as a likely source of wholesale death and misery for mankind."
- Nigel Calder, "In the Grip of a New Ice Age", International Wildlife, July 1975
"The continued rapid cooling of the earth since World War II is also in accord with the increased global air polution associated with industrialization, mechanization, urbanization, and an exploding population, added to a renewal of volcanic activity..."
- Reid Bryson, "Environmental Roulette", Global Ecology; Readings Toward a Rational Strategy for Man John P. Holdren and Paul R. Ehrlich, editors, 1971
"Those who cannot remember the past are condemned to repeat it."
- Life of Reason, George Santayana
---
A Study of Climatological Research as it Pertains to Intelligence Problems
This document is a working paper prepared by the Office of Research and Development of the Central Intelligence Agency for its internal planning purposes. Therefore, the views and conclusions contained herein are those of the author and should not be interpreted as necessarily representing the official position, either expressed or implied, of the Central Intelligens Agency
August 1974
(Hele PDF-filen kan lastes ned fra vårt eget område.)
(Med takk til Maurizio Morabito - "Omnologos" som finner ut av det meste.)
---
Times, 3. desember 1973: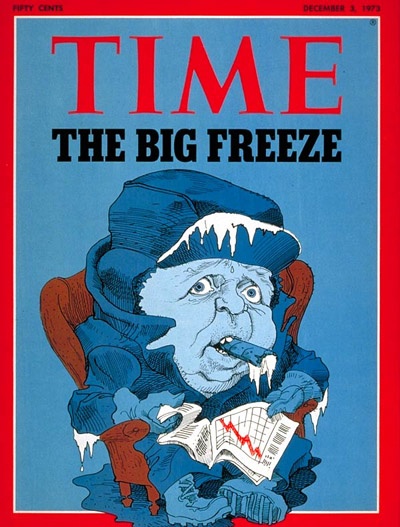 Times, 31. januar 1977:
Times, 8. april 1977(?):
Dr. Steven Schneider: Som ung fryktet han global nedkjøling,
deretter fryktet han global oppvarming.
---
Playing God
Judith Curry (JC) comments: In the 1970's as a student, I had courses in weather modification (cloud seeding) and inadvertent weather modification (pollution, urban heat islands, etc). Cloud seeding is an excellent example of the challenges of producing the desired effect and of documenting that your action had some causative component (it aint easy). The unintended consequences (e.g. downstream droughts or floods) introduce a legal nightmare into such activities.